Christopher Nelson is a gallery owner, artist, director and producer, he is active in a wide range of different medias and art forms. He has made exhibition films for Malmö Museum, Röhsska museet and The Astrid Lindgren-Museum in Vimmerby. In the 1990s Christopher was a student of the national film school of Denmark. He has worked as a director and scriptwriter at SVT (Swedish national television), held courses in film and experimental media at Malmö university, directed films, theatre plays and other big cultural events (See CV).
Christopher also makes music and works as a DJ under the name TOPPER T. He is the band leader of The Metrophonic Orchestra, a projekt that combines electronic music and improvised jazz to silent films. From 2016-2019 they toured with the film Metropolis (1927) and played at different cinemas in Stockholm and in southern Sweden.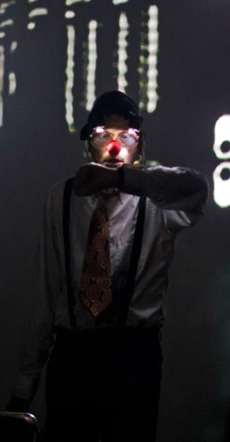 Christopher performing the multi-media clown performance "Grand Central" at the cinema Bian in Eslöv, in the south of sweden.